Hi and welcome to our Under the Sea Theme Hop and Release!!
We are SUPER excited to show you our latest theme release that has to do with mermaids, merboys, mercats & dogs and everything under the sea!!
This very special Theme Hop has 5 new stamps, 2 die sets and 1 (54) piece die cut set!
This weekend ONLY, get free shipping when you buy the bundle*
*(Free SHIPPING this weekend only)
click the image to get the BUNDLE deal for free shipping!!!
Stamp Club members get a 20% discount on the BUNDLE!!
So what's in the bundle?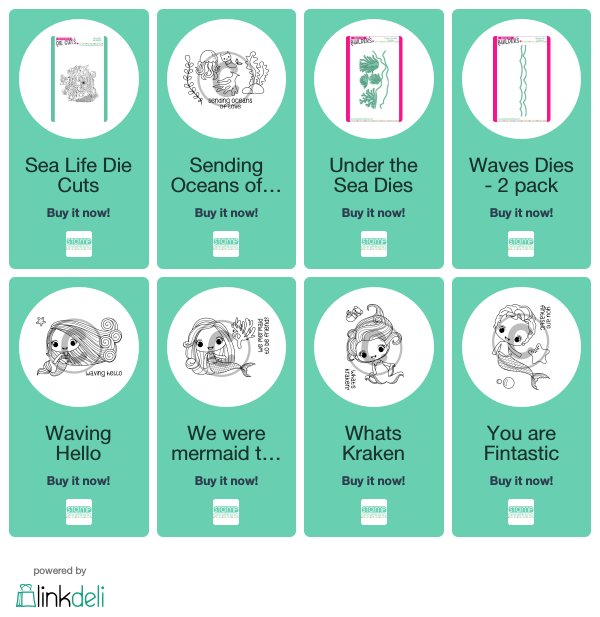 All Items are in the store
TODAY and the
FREE shipping will be available ONLY til Sunday at 11:59pm Eastern time!
`~*~*~*~*~*~*~*~*~*~*~*~*~*~*~*~*~*~*~*~*~*~*~*~*~*~*~*~*~*~*~*~*~
Wanna see what I made with the bundle item? I had a BLAST coloring up these fun merpeople!
Here is my little Merboy card. I used some brusho on the card mat and layered that onto some striped cardstock. I then colored up some of the dies from Under the Sea and even glossy accented a few. Next I colored up the image and pop dotted him to the card.
Copics Used
Tail/ fin G19 FV2 FBG2 FYG2
Hair YR07 YR15 and R37
Skin E000 E02 E04 R20 R22
This beauty was soooo fun to color up! I decided to try a darker skin tone and have fun with her hair! She was so fun to do! I Nuvo Moussed the background and added some Bo Bunny Confetti paste... then I card matted her and added the circle dies. I then copic colored my Hello die to match the colors and placed it all down!
Copics Used
Skin RV34, E77, E74, E71 and E70
Hair BG13, Bg11, Bg18, BV17, BV11 and BV08
Fin/tail G16, FYG1, FYG2, FBG2



Here is my sea witch (octopus!)... I just knew she had to be in the bottom depths of the ocean so I created her in a deep cavern on the ocean floor. I used the Under the Sea dies to create the hills and knolls of the cave. I tucked in some coral and plants and added some fun funky hair to this beautiful creature!
Copics Used : Tentacle bottoms Y08, R24 - Body Bv08, Bv17, Bv11, BV13
Hair BG13, YG06, Y19, E29, E23, E71, E25
Skin E000, E02, E04, R20, R22
My last card for the hop is actually a POP UP card. It has many layers on different planes and its just a totally fun card to open! I used several of the die cuts for our package and collored then with marker and nuvo drops (glitter)... I made her a soft pastel hair combo ad just love how it all came together! Sorry I forgot to take note of the copics I used on this one!!
I hope you enjoyed our Sneek Peek for the release!